I don't have a problem with the colour pink as such. On tropical flowers it is fiery and exciting. On my gardening tools it is a necessary high contrast colour where I might drop a glove or secateurs on the soil or foliage. Shocking fuchsia pink is a colour that suits me and my skin colouring. My "Pink Pen of Mild Peril" has been more popular among male and female students alike than its predecessor the "Red Pen of Doom". It's a nice colour.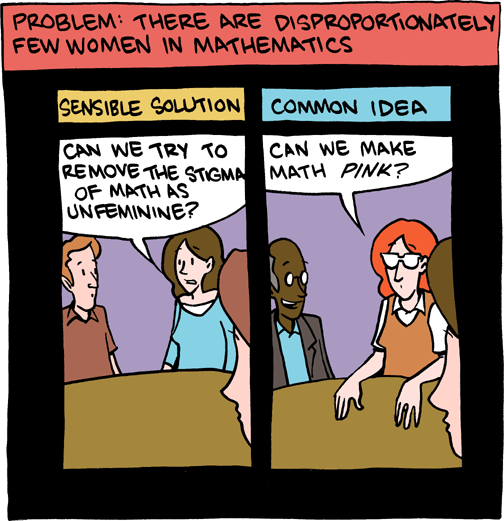 But, as this comic from
Saturday Morning Breakfast Cereal
shows, the colour pink is being used as a lazy shortcut to getting girls and women interested in science, technology, engineering and mathematics (STEM). It isn't a new phenomenon by any means. There is a superb campaign called
Pink Stinks
, that "challenges the culture of pink which invades every aspect of girls' lives". it highlights many awful examples of this invasion on its
blog
. As of Saturday morning, I have a further addition to their collection of pink crap.
Ahhh, folks, remember the good old days where anti-intellectual teasing and bullying was unisex, and one could only buy black-framed "
nerd specs
"? If that wasn't patronising enough, then you can do a quiz on the back of the pack to see whether you truly are a "geek girl".
Particular gems include:
Did you have your first drink on your 21st birthday? - Oh that's good, let's have peer pressure straight off!

Have you ever dressed up as Slave Leia? - Not entirely sure that the set of women who have dressed up as Slave Leia and the set of women who may identify or be identified as a geek are identical...

Do you have an Etsy account? Have you ever knit [sic] something for a friend? - So if you're creative you must be a geek?

Does your skin burn rather than tan? - Aha! So only pale Northern Europeans can be geeks...
I just really,
really
wish this wasn't an issue anymore. But as long as we have
pink, substandard items
marketed just to girls, and baby boys
killed for "acting like girls"
, this is never going to go away.